I have visited the Mamanwa previously as mentioned in this blog to write a paper on Mamanwa politics, leadership and governance. I was so thankful for their hospitality and accommodation that I could not resist not doing something to repay their kindness. In my first visit they mentioned the obvious advantage of having electricity in their settlement. This particular band has only two cellphones for a group of 20+ people and they have to "go down" (because they live in the mountainous portion of the area) to have their cellphones charged. One household had a television set and a DVD player. They powered this entertainment system by a car battery but they said they barely use it since charging the battery would entail additional expenses for them
I can understand why the local electric distribution would not invest so much in bringing electricity to where they are living considering that the nearest house from the settlement is some 20 to 30 minutes away by foot and there are no houses in between. Local politicians has promised them for several times already that they will soon be given electric power but as of the time of this writing they are still not connected to the grid.
A good friend of mine, Dann Diez has set up Sustainable Energy and Enterprise Development for Communities (SEED4COM), a non-stock non-profit organization whose mission is to help in improving human conditions and empowering poverty-stricken areas, rural and last-mile communities in the Philippines. Seed4com has closely been working with Project EnKindle to install solar systems for disaster hit communities.
Being involved in SEED4COM, I shared with Dann, the need of the Mamanwa for electricity. He was excited of the prospect of installing solar power to the community. He said he also has a desire to help indigenous communities. This will be Seed4com's first indigenous community solar installation with the help of Project EnKindle.
I told my graudate school classmate Betchai Ponce about this and she was equally excited to help the Mamanwa as well. The Mamanwa in this area are her research interest and she has been going in and out of this particular community for sometime now.
So sometime in June 2014, we set off for Leyte. We had to take the longer route and went to Ormoc first to get the 50 W system. This system was previously used by a community affected by typhoon Haiyan (locally known as Typhoon Yolanda) but since electricity was already restored to the said community they returned the system (As this is the agreement in all Seed4com/project Enkindle installations, a sort of a stewardship arrangement not really a donation in order that the people that are using the solar system might become more responsible in taking care of it) With us is Zemar Roblido, a solar panel installation volunteer who lives within the Ormoc area. From Ormoc we took the van to Bato and then took a coaster bus to Sogod and then proceeded to Barangay Pinamudlan San Francisco.
The exhausting 9 hours+ journey consumed the entire day and when we arrived at 5 p.m. in the Mamanwa settlement. We hooked up a part of the system in order that we might have power for that night. We also ran wires to three other nearby houses so that they can enjoy having power for the first time that night.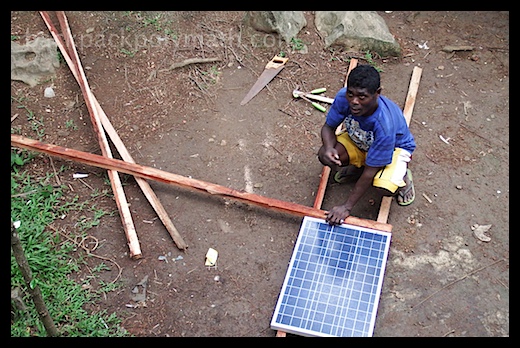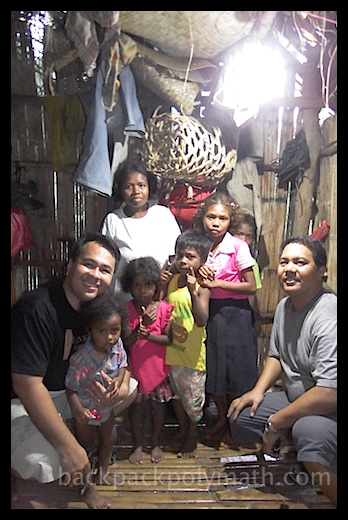 This is my first time to spend the night with the Mamanwa. Not much action happens at night as they sleep very early and it is very dark in the surrounding forest area, (Except if they go on night fishing, "ma-nolo" in the Visayan dialect, but this didn't happen that night) so after dinner we just swapped some stories and went to sleep.
Luckily there was a place for us to sleep. Somebody donated to them a structure that was suppose to become their library. But no books are available yet so it has sort of become a common area/guest house/community center for them. It is sort of an open elevated structure with no walls but with bamboo railings, nipa roofing and bamboo floors.
I had a hard time sleeping because it was too cold! (We did not expect to sleep overnight so I didn't bring with me any other "sleeping paraphernalia" and interestingly enough every time I am caught in this type of situation I tell myself to buy a sleeping bag, which until now I still haven't done so) I slept on cardboards and used the used clothing we bought as cushion.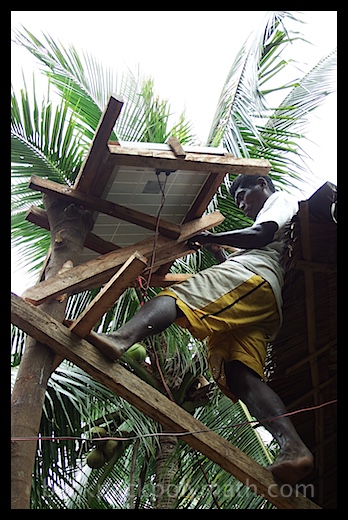 The next day, the Mamanwa set up the post where the solar panel would be placed. We can really see how happy they were that they would be getting electric power. They spent the day off from their regular job of going to the mountains to harvest raw materials for their basket weavings and instead assisted us in setting up the system. Their former elder told us that a lot of people has promised them a lot of things but a lot never really came back to help them. We were so glad when he told us that even if we never promised anything we were one of the few people who came back and really helped them. Aside from bringing the solar system, we also brought with us used books, used clothing and some candies for the kids.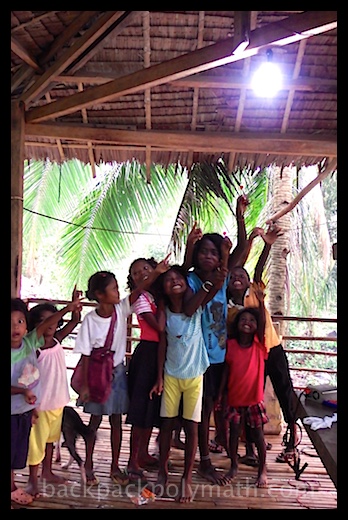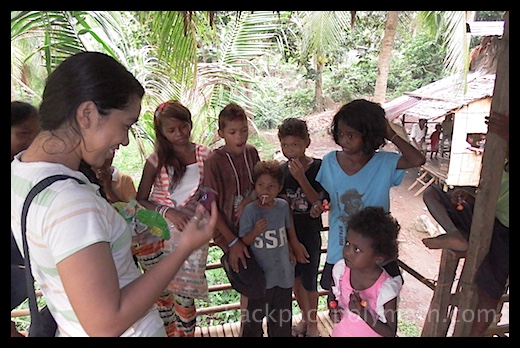 The system we brought is comprised of a 50 watts solar panel, a charge controller, an inverter with 2 A.C outlets that can charge small gadgets such as cellphones, a deep cycle battery and 3 watts D.C LED light bulbs. There are 7+ houses and we could only power three (including the community center) considering that we only bought a 50 W panel. We all agreed to go back and install another 50 W so that the other houses can also be lighted up. To make our job easier when we come back we made preparation for the wiring in the other houses. We had to go to the town of Liloan to buy extra wires, bulb holders and switches as we did not anticipate that we will be making preparations to install a second system.
After the installation we held an informal meeting with the community and briefed them on how the solar system works, what to do in case of problems and explained to them that they are stewards of the system.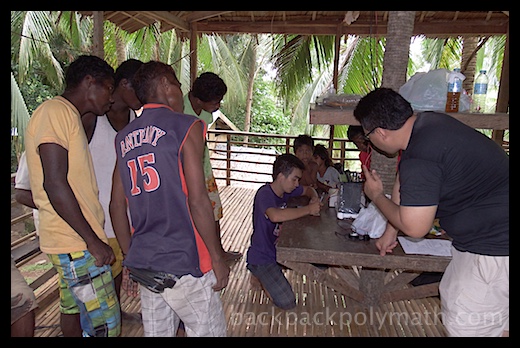 Two months later, sometime in August 2014 we did come back and brought the second 50 W system with us. We also brought loafs of breads which was donated by Gardenia (Thank you Gardenia !!!) and more candies for the kids. I did not spend overnight that time but the team that installed the second system did. A third visit was made by another group to bring over more lower wattage D.C LED bulbs and to check on the installation.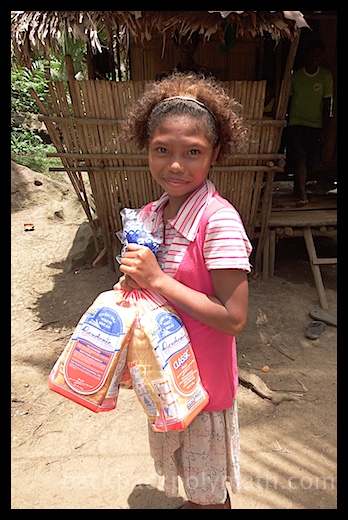 We look forward to doing more projects with the Mamanwa soon. I think the area around their settlement has a lot of potential to become a cultural and eco-tourism destination because it is a mountainous-forest area and the Mamanwa say there is a nice waterfall about an hour away by foot. What will be needed to achieve this is to develop the Mamanwa settlement into a cultural village showcasing Mamanwa culture and that the village must offer some sort of a homestay program. The tourism infrastructure should also be well developed like hiking trails with well-educated guides and that secure camping areas should be established as those who like the outdoors favor this. I see a lot of potential in the area, which could redound to the benefit of the Mamanwa and at the same time help, preserve and promote their culture. (This could be a good case study on sustainable cultural  and eco-tourism development) Honestly I am at a lost as to how the local government is not able to see this potential. We look forward to working with the Mamanwa in giving life to these ideas sometime in the future.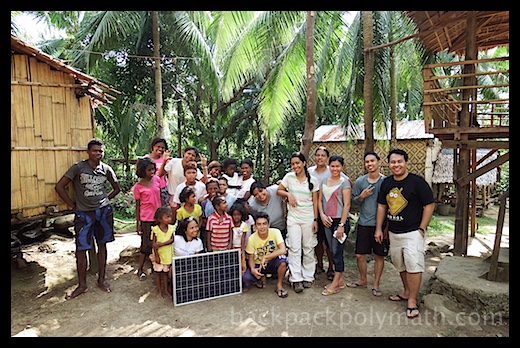 Love what you just read ? Don't forget: 

If you like us, we will love you !