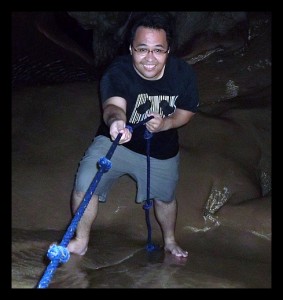 Zigfred Diaz is a travelholic, certified wanderlust, adventure seeker,   lover of cheap airfares and backpacker hostels. He has traveled to more than 12 countries and in most parts of the Philippines. He shares his travel adventures and misadventures in this blog, the backpack polymath.
Aside from being a frustrated travel blogger, he wishes to live life to the fullest. As he is a polymath, he shares his thoughts, crazy ideas and whatever he could think of at his main site and personal blog www.zdiaz.com. He also blogs about his other passion which is stock market investing at www.polymathinvestor.com and technology at www.humortechblog.com and maintains several other blogs. (So much blogs his "latest" blogpost are months – or even a year away hahahaha)
He is an engineer by training and a businessman and a lawyer by profession. While not pursuing his online exploits, he is currently the Vice president of Zana Holdings Inc. (www.zanaholdings.com) a close family corporation with interest in various business activities.  He also sits in the board of a pharmaceutical distribution company JVZEA Pharmaceuticals (www.jvzeapharma.com) He is also a practicing lawyer and teaches law subjects at the Southwestern University school of Law.
As a prolific writer he is a multi-site blogger, book author and novelist. Being a Registered Financial planner, Certified Securities Specialist, Licensed Real Estate Broker and Appraiser, from time to time he writes articles related to investing and personal finance at the Business Mirror and Money Sense Magazine. He is a regular speaker on the topics of personal finance, stock market investing and estate planning.  He has authored several ebooks which he has published in the internet for free and has co-authored the one of the best selling and widely popular  4 volume law bar exam reviewer, Lex Pareto Notes. (www.lexparetonotes.zdiaz.com)
He is about to finish his Master's degree in Anthropology at the University of San Carlos. At the same time he is pursuing a graduate certificate in cognitive archeology at the University of Colorado's Center for Cognitive Archeology to supplement his studies in Archeology, an area of expertise he wishes to focus in. He is also pursuing a degree in Computer Science from the University of the People.
He is currently pursuing his Master's degree in Divinity, majoring in Christian Apologetics at Veritas Evangelical Seminary and is currently the senior pastor-teacher of the Master's Community Fellowship. (www.mastersfellowship.net)
His involvement in sports and adventure includes biking, running,  swimming, boxing, Muay Thai, mountain trekking and spelunking.  He would really love to compete in an iron man tri-athelete event someday and plans to also become a licensed diver, CIA agent, MI-6 agent,  nuclear scientist, astronaut, Barbero, Doctor, nars, flight attendant, piloto, guwardiya, Artista, radio announcer, director, prodyuser, cameraman, tindero, waiter, masahesta, security guard, labandero, pole dancer, treasure hunter, ghost buster, member of the avengers, justice league and certified vampire hunter. 🙂