Baguio City is located in Northern Luzon and is situated at 1500 meters (5100 ft) above sea level. Baguio City is best well known for its cool climate. It was established by the Americans in 1900 as a getaway from the scorching tropical climate from the rest of the country. Baguio City is officially designated as the "Summer Capital of the Philippines" in June 1903. I've been to Baguio City several times already. 've always loved the culture in Northern Luzon. The Filipino tribes in that area have preserved so much of their culture. Baguio City is also considered a center for the indigenous Filipino culture of the Cordillera area.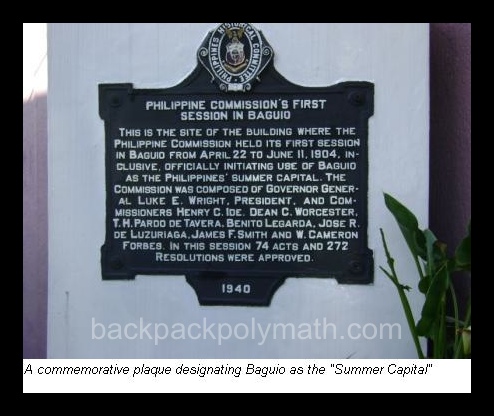 We took the early morning flight from Cebu to Manila and arrived at around 8 a.m. We then grabbed a cab and proceeded to the Victory bus terminal which will take us to the Summer Capital. The bus left Pasay City, Meto Manila at around 10 a.m. It will be the beginning of a long 6+ hours boring journey. To amuse myself I juggled my time between writing blogposts, reading the book "Warren Buffett and the interpretation of financial statements by Mary Buffett and David Clark and watching the onboard movie.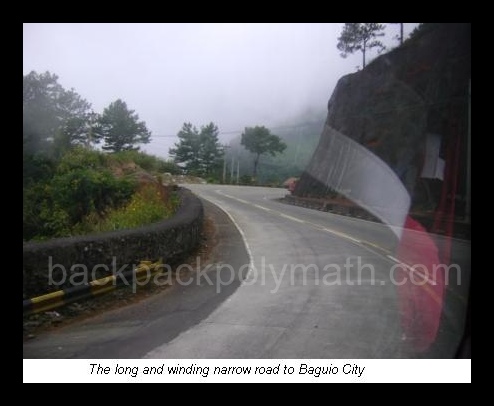 We made several stops to go for rest room purposes and to grab some chow. Finally we started to ascend to Baguio City. After an hour in the long winding road we finally made it to Baguio City !
Baguio City was not what it used to be. I remember more than 10 years ago when I first visited the place, there were only a few developments in the area. The weather was nice and cool and traffic was unknown to most Baguio resident.
Now people, buildings and houses are everywhere! The weather is not as cool as it used to be and the traffic is unbearable especially in the rush hours. What's worst about it is that the taxis still do not use air-conditioning because the weather is still somewhat cool. So vehicles still open their windows to let the cool fresh air in. However what you mostly inhale is the carbon monoxide from the other vehicles especially when you are stuck in traffic.
Nevertheless Baguio City has not lost its appeal. The weather is still cooler than your average Philippine city. The sceneries and the ambience of the place have not lost its magic even if it's warmer and is crowded than before.
We checked in at the Raja Soliman Hotel which has a "magnificent view" of the over-crowded Quirino Hill.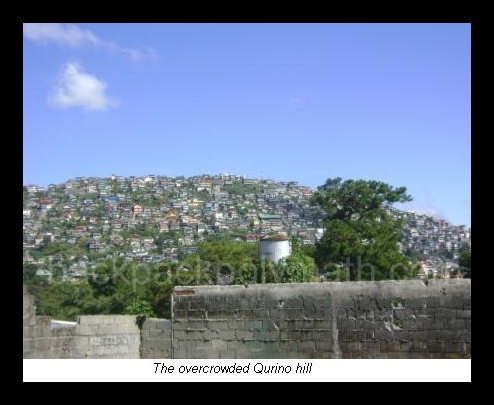 At about 8 p.m. we went out and had dinner at the Café by the Ruins. They say this is a "must" see and dine place if ever you visit Baguio city. Café by the Ruins is literally built on upon the ruins of the mansion of the former American governor of the Summer Capital. A wall which is the part of the mansion still forms part of the Café. Café by the Ruins offers food, drinks and pastries that are "indigenous" to Benguet and the Cordillera Region. We had Camote bread with Honey, strawberry jam and butter. (I never knew camote could be this tasteful!)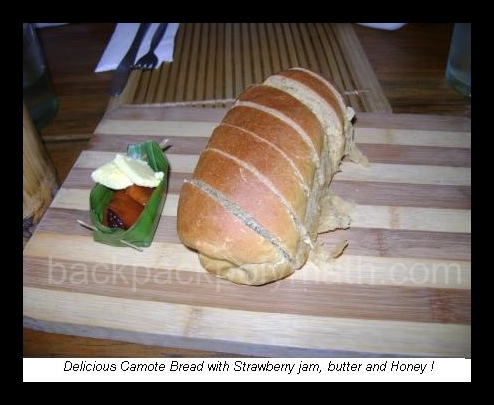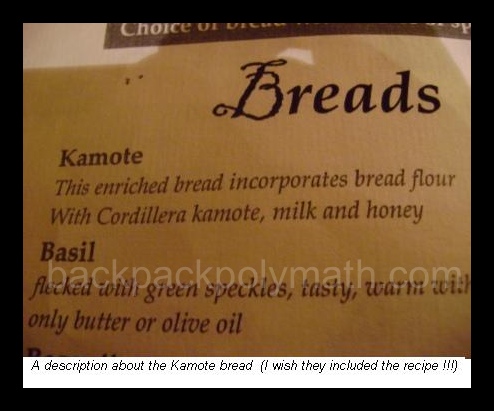 For our main course we had fresh lumpia while I had "pinikpikan" which is a a native Ifugao dish prepared by beating a live chicken with a stick before cooking. The beating bruises the chicken's flesh resulting to bringing its blood to its surface. This ritual is what gives this dish its unique taste.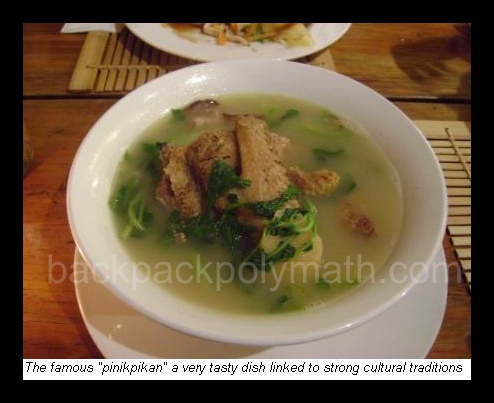 After a sumptuous dinner we walked to the city center and up Session road to have coffee at Star Bucks in SM City Baguio. We were also scouting for a hotel where we could transfer to. We wanted to change hotels for two reasons. First we wanted to be in walking distance of the City center and secondly we were not very happy with accommodations of Rajah Soliman Hotel. After enjoying our coffee, we decided to call it a day so we grabbed a cab and went home.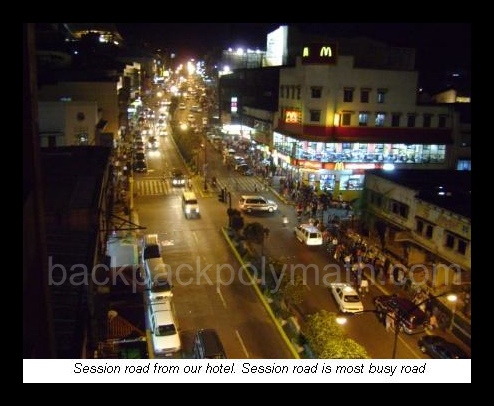 The next day, Thursday, I enjoyed the cool nice breeze and slept until 9 a.m. Then I woke up and went to have breakfast and to canvass some more hotels. I've always wanted to be somewhere in Session road because that is where the action is. Finally I found a cheap but nice hotel just at the tip of Session road near Burnham park and Baguio City market, the La Brea hotel. I wasted no time in getting a room. I went back to Rajah Soliman, checked out, grabbed our gear and deposited it at La Brea.
I had brunch at the Zola Café in session road then I proceeded to check out the Museums in the area. I learned that Baguio city has three museums.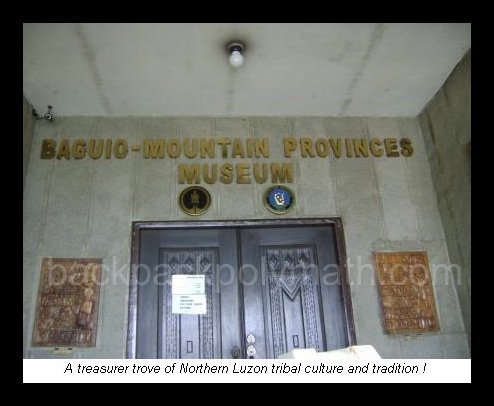 My first stop was the Baguio-Mountain provinces Museum. I was informed that the museum will be open at 2 p.m. so I decided to check out another museum, the Gen. Emilio Aguinaldo Museum. Aguinaldo's daughter Cristina Suntay once lived in Baguio City. That is why there is an Aguinaldo Museum in Baguio housing some of Aguinaldo's memorabilia and the historic Philippine flag that was unfurled during the Philippine Proclamation of independence in Cavite.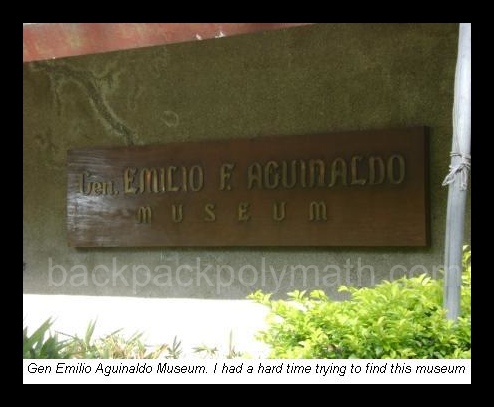 Unfortunately the attendant of the Aguinaldo Museum was not around. The gardeners informed me that they do not know when the attendant will be back.
I went back to the Baguio-Mountain provinces Museum. I regret to inform you that I cannot show you some pictures because picture and video taking is not allowed in the museum.
The three story museum showcases the rich culture, traditions and artifacts of the tribes of Northern Luzon most particularly the tribes in the Cordillera Region and Benguet. There were three things that caught my attention. First is the mummification process. I was surprised to learn that the Igorots (aside from the ancient Egyptians) were the first among the ancient cultures that practiced mummification. The second thing that caught my attention was the fact that the Kalingas of Kalinga Appayo were said to be more "well dressed" (heavily-ornamented) among all the tribes of the Philippines. (I stayed in the mountains of Kalinga Appayo for 5 days several years ago for a medical mission) Thirdly, that there are several tribes in Northern Luzon and that the tribal people of the Philippine represent about 5 % of our population. Among these tribes the most scattered tribe are the Negritos which are found almost everywhere from Luzon Visayas and Mindanao. I want to study in-depth these Filipino tribes and get to learn more about their culture perhaps I will do this when I retire in the near future.
There are also several showcases on how Baguio City was founded featuring the history of Baguio City through old blown up photographs of the past.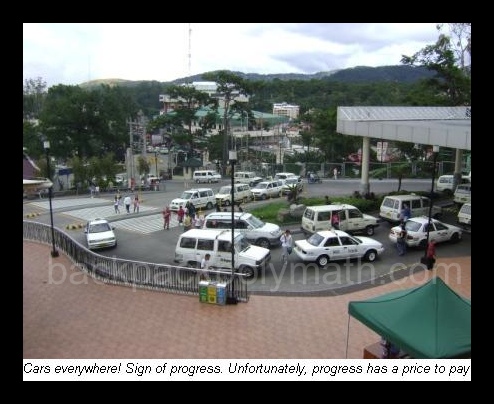 After the rich cultural tour, I decided to go to the SM City to relax by watching a movie. Ic hose to watch the tagalong film "One True love" as it is the only movie I haven't watched among all those featured in SM cinema. Before the movie started I took pictures of Baguio City. After enjoying the film, I decided to try out the Cordillera Café in SM. The Cordillera Café offers unique coffee flavors and food from the Cordillera area. Unlike Star Bucks, they offer free WIFI. So I surfed the internet and enjoyed my coffee. After a while my wife called in and told me that I should meet them at Palizzata.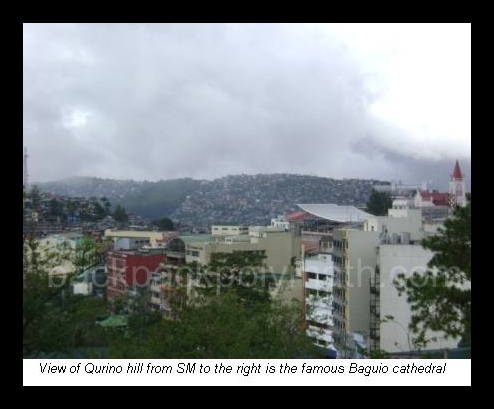 Palizzata is a nice little restaurant with a great view of Session Road. We ordered salads and pizza. After satisfying our gastronomic cravings we walked back to the hotel. At around 10 p.m. my wife's aunt, Helen Mecarsos Naces and my wife's cousins, JR and Ann dropped by the hotel. We chatted and talked for a while. They said they would pick us up to invite us to dinner on Friday night.
On Friday morning, I spent my morning watching the History Channel and trying to get a WIFI signal from the McDonalds across the street. Later on I went out and ate pancit palabok at a Filipino restaurant just beside Session road. At around 3 p.m. we left to go to the Strawberry farm in La Trinidad Benguet, just the next town from the Baguio city which is about a 15 to 20 minutes ride.
The Strawberry farm features several goods that are made of strawberry. We tried their strawberry "Taho" a Philippine snack food made of fresh soft tofu, brown sugar, vanilla syrup and pearl sago and of course some strawberries. We also tried their straw berry ice cream.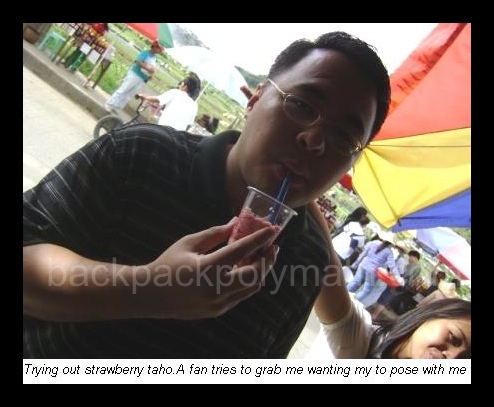 And who could ever claim that they went to Baguio City without buying the world famous strawberry jam? So we bought a box. We also had some strawberry wine. I was tempted to buy strawberry vinegar but I didn't and I still beat myself today for not having bought some. We also bought other delicacies that are not strawberry based but were nevertheless unique to the region. Some merchants were selling very cheap silver jewelries. I was not surprised at all because I knew that Benguet is also known for its mining industry which explains why silver is cheap.
We caught the taxi back to the hotel and visited we visited the famous Burnham Park.
The world famous Burnham Park which is in the center of Baguio City was named in honor of Daniel Hudson Burnham who was a famous American architect and urban planner. Burnham was also the one responsible for designing Baguio City. The park has a man made lake which features a boat ride. You can also rent out bicycles or go roller skating.
I went around the park trying to find some wood carvings to take home with me. I couldn't find any. I remembered that there were some at SM City so I hiked all they way up to SM City. This is the thing I love about Baguio City; you get to exercise a lot when walking around because of the steep terrain.
At SM I bought some wood carvings of Ifugao warriors. The ladies (2 of them Ifugaos) who were watching the booth told me that they sell wood carvings much cheaper than those sold in the Baguio City Market. I beat myself up on why I haven't tried the Baguio City market when it was just a stone's throw away from our hotel room. So before I went back to the hotel I tried the Baguio City Market and bought two wood carvings there, after that it was now time to head back to Metro Manila and go home.
Our trip to Baguio City had truly been a well deserved break from the day to day routine that I religiously followed. When I visited Baguio City in 1995 I always dreamed of living there. But now that it is so congested I do not know if I still want to live there. However I remain fascinated and long to immerse myself with the cultures of the tribes in northern Luzon. Perhaps I might spend a longer time there in the future. For now a side trip every now and then to the Summer Capital might offer some respite.
How to get to Baguio City: 
Baguio City is only accessible via land transportation. There are no regular flights to Baguio City, however several bus companies go straight there from Metro Manila. I highly recommend the "executive", "First class" or "Deluxe" which is now offered by most bus companies (Victory Liner bus company being one of the most popular). Although they are much more expensive, it is very comfortable and convenient. Executive coaches have their own comfort rooms, features nice movies, has free wifi and you can sit in a nice big comfortable chair that can be reclined almost all the way, plus the seats are not so compressed and you get to stay in a posh waiting room while waiting for your bus. But if you are in a tight budget, you can also opt for the regular buses.
Baguio City Location Map: 
Love what you just read ? Don't forget: 

If you like us, we will love you !